After we've all OD'ed on chocolate bunnies and pastel jelly beans, it's time to get back down to business. Did everyone have a good holiday weekend? Good.

ON THE STROMBO SHOW - SUNDAY, MARCH 23


Danko Jones, the Toronto based hard rock trio, drops into the Edge Studios to chat with George about their new release

Never Too Loud

.

The Strombo Show airs on the Corus Radio network, from 5-8 EST (2-5 EST) in Toronto, Hamilton, London, Winnipeg and Vancouver. If you're not in those cities, you can stream the show from The Edge's website.

ON THE HOUR -

MONDAY, MARCH 24
Well, the crew at The Hour get the extra long weekend (lucky ducks), so let's flashback to a couple of our recent favourites...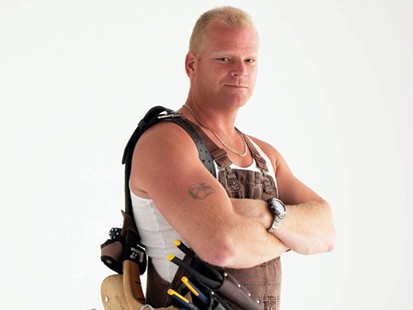 A stickler for doing it right the first time,
Mike Holmes
has made a name among home owners as their saving grace when all goes wrong with their renovations. While his open and frank exposure of sloppy workmanship hasn't made him a lot of friends in the contractor's world, Holmes was recently recognised in the House of Commons as an "extraordinary craftsperson" and "an accomplished master builder with a social conscience".

Eat Food. Not Too Much. Mostly Plants.
In his latest book,
In Defense of Food
, author
Michael Pollan
firmly believes that as a society, we need to rethink how we eat and what we eat. Why? Because we're not eating food anymore, we're eating ingredients. Pollan believes the shift towards modified food is essentially killing us, and that we need to go back to the food that our grandparents ate. Real food... with minimal interference.
TUESDAY, MARCH 25
With four albums under her belt, Chantal Kreviazuk has made her mark on the music scene as a singer-songwriter. Recently, she and her husband, Raine Maida, collaborated with artists like Avril Lavigne and Kelly Clarkson. Kreviazuk is also a staunch supporter of
War Child Canada
, an organization dedicated to "providing urgently needed humanitarian assistance to war-affected children around the world", and visited Ethiopia last fall to see how the orphans of AIDS were working to survive.
WEDNESDAY, MARCH 26



As president of the Canada Family Action Coalition and Canada Christian College in Toronto,
Charles McVety
, is probably best known for his work to repeal the Same Sex Marriage Law (Bill C-38). Well, McVety has a new target, the Canadian Film Industry. If Bill C-10 goes through, the government could deny Canadian film makers the tax credits needed to finance their film projects.
This will be McVety's second appearance on The Hour. He first appeared on the show to discuss the same sex marriage issue on
October 19, 2006
.
One of the hardest working women in Canadian Film and Television, Mary Walsh is known for creating
This Hour Has 22 Minutes
, and for her varied work in projects like CODCO, Mambo Italiano and The Boys of St. Vincent. Her most recent projects include the television series Hatching, Matching and Dispatching and the movie Young Triffie. Starting in May, Walsh will take on the title of "college professor" as she embarked on teaching a class on 18th century literature and satirical writing at MUN with her husband Don Nichol.
This will be the second time on the show for Walsh,
she went to the Newsstand with George back on
February 1, 2006
.

THURSDAY, MARCH 27
Omar Samad, has held the title of ambassador of Afghanistan to Canada since September 2004. Before becoming ambassador, Samad was the Spokesperson for the Afghani Ministry of Foreign Affairs. Samad joins George in studio, to discuss affairs in Afghanistan and Canada's continuing military role.
Starting out in rival bands in high school, the members of Sum 41 have ridden the rocket to fame, selling over 10 million albums globally. Now, as they resume the Canadian tour they had to cancel late last year due to