Sheryl Crow

e
Her new album questions political and environmental policies.
She's trying to encourage artists to stop being distracted by lightweight topics & write about what's going on in the world. Will it work?
Morgan Spurlock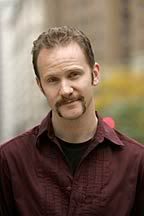 Shooting more than 800 hrs of digital footage exploring the Middle East,
could this Super Size Me filmmaker have found Osama bin Laden?
Aimee Mullins

Having both legs amputated at one year old, Paralympic athlete models for Kenneth Cole's spring 2008 campaign - "We All Walk in Different Shoes." with a mantra stating:
"What you stand for is more important than what you stand in. To be aware is more important than what you wear."
Jim Balsillie

CEO, Philanthropist, and the man who brought the Blackberry to the masses.
Chuck Thompson
Travel writer, editor, and photographer to plug his book: "Smile When You're Lying"
"If there is such a pastime as extreme tourism, Chuck Thompson is surely its guru."
—Boston Globe
John Cusack
Producer, writer, and actor in his new film, 'WAR INC.'
A dark political satire reportedly inspired partly by Naomi Kline's article, "Baghdad Year Zero"
Jeffrey Buttle
Recently winning a gold medal in Sweden & Canada's 1st men's world championship in 11 yrs.
Alex Caine
Author, black-belt martial artist & advisor on biker investigations, is releasing his first book:
"Befriend & Betray"

Your guess is as good as mine, folks....
Enjoy!