Listen to the Strombo Show every Sunday afternoon from 5-8pm EST (2-5PT) on 102.1 The Edge (Toronto), 99.3 The Fox (Vancouver), Power 97 (Winnipeg), Y108 (Hamilton), and FM96 (London).
Nothing on their fan page as of yet, to who will be on the show, but I believe that the show was pre-recorded earlier in the week.

Mon, Nov 3

Matt Taibbi
Rolling Stone's chief political reporter & occasional contributor to Real Time with Bill Maher -
having been quoted as saying that investing any emotion in the ideals of American democracy is "digging for hope in a shit mountain."
Farley Mowat
One of Canada's most widely read authors -
Never Cry Wolf ring a bell?

Actively involved with the Green Party of Canada & an environmental advocate.
Tues, Nov 4


Yes, that's right folks.....you heard it here first!
Having caught election fever, tonight George Stroumboulopoulos makes Canadian & International headlines by being the first reporter in history to interview the soon to be, 44th President of the United States, immediately following the election.
*
Take that Harper!

; )


(This would be the place where George shakes his head and says "no not really".)




Wed, Nov 5

Jay Baruchel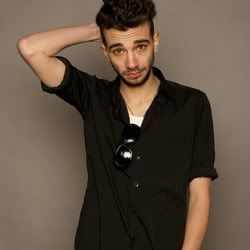 Co-host of 97/98's Popular Mechanics for Kids & Canadian actor who played the memorable role of the hopeful boxer, Danger Barch, in Eastwood's Million Dollar Baby.
~ UPDATE:
Scott McClellan
Former White House Press Secretary sits down with George on "The day after".
Thur, Nov 6
Ray Anderson
OOPS! Sorry, that's X-ray Anderson.....
Anyways, back to tonight's guest, who is making a
second appearance
on The Hour. A CEO with a mission: Mission Zero.
Being a leader in the floorcovering industry, Mission Zero is his company's promise to eliminate any negative impact it may have on the environment, by the year 2020.
Kings of Leon
One of Strombo's professed fave bands & if you check out their music on
MySpace
, you may see why.
Made up of 3 brothers (who's father was a travelling United Pentecostal Church preacher) and a first cousin, the band claims that their music was influenced equally by their religious upbringing and Jack Daniels.
*US Election-a-palooza tonight, just you try & escape it!