First off I have to send a HUGE CONGRATULATIONS to all Canadians who donated to the Canada For Haiti telethon over the weekend. As I write this, over 13.5 million dollars have been raised to help the people of Haiti! With the government matching donations dollar for dollar, the 9 organizations benefitting from the telethon will be able to do a lot of good work in the coming weeks and months as they help to rebuild Haiti.
If you haven't had the chance to donate yet, the phone lines and the website will continue to take donations until February 12th. Call
1-877-51HAITI
(42484) or check out
www.canadaforhaiti.com
to donate. If you missed the telethon, check out the
Canada For
Haiti YouTube Channel
. Don't forget to follow them on
Twitter
and
Facebook
.

SUNDAY, JANUARY 24th

It's a busy night for George.

On the main CBC network, tune into
Test the Nation: IQ
. Hosted by George and Carol McNeil, this is the second time that Canadians will be able to participate in an interactive, real-time IQ test. While Canadians can take the test from the comfort of their own homes, 6 in studio teams will also participate to win the highly coveted Test the Nation trophy. Tune into the main network at 8pm (8:30 in Newfoundland).
Don't forget that the Strombo show is on tonight as well, on CBC Radio 2. As always George will have a complex playlist of some of the best music.
As we enter the last week of January, there's a lot going on
The Hour
.
MONDAY, JANUARY 25th
Author and Co-Director of
Haiti Partners
Kent Annan
Comedian Colin Mochrie
TUESDAY, JANUARY 26th
Coaches Corner Co-Host
Ron MacLean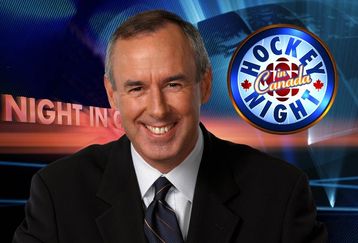 Actress
Melissa Gilbert